Kindness Carnival & Yellow Parade 2016
#DriveKind
They say third time is lucky, but for us it was third time amazing! This year we celebrated World Kindness Day by lighting up the streets of Kuwait with a string of yellow cars, buses, motorbikes and even a yellow Ikea truck.
The Yellow Parade Kindness Carnival is a vibrant participatory gathering that has become a form of expression for the public. Like-minded positive people are invited come together, and spread the message of kindness, compassion and positivity on the roads and in our lives in general.
The parade which measured over a quarter of a kilometer wasn't the only highlight of the day, as this year saw the debut of the Kindness Carnival, which allowed people, initiatives and brands to promote kindness in their own unique ways.
Held at Anjafa Beach, the day started with the Kindness Carnival set on the green area, over-looking the sea. Organizations from around Kuwait set up booths to promote kindness to society, animals and the environment.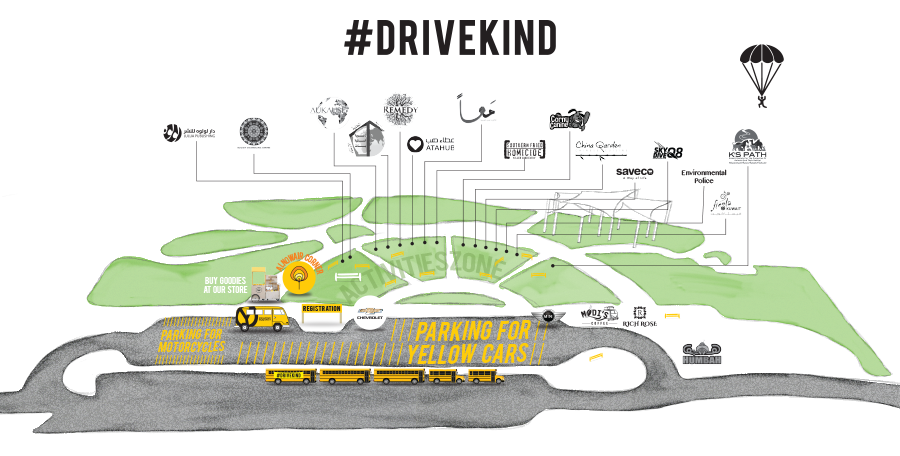 The blue skies set the perfect back drop for a lovely sunny day, as friends and family celebrated kindness through various activities, ending with the Yellow Parade and the #drivekind challenge. This brought home the message that – One Kind Heart – can turn to – One Kind Earth.
If last year's parade set a bench mark for the longest parade of Yellow cars in Kuwait, this year the bench mark was raised considerably higher. The event was attended by a record of more than 500 people, and 52 vehicles participated the parade.
A special mention to all of our supporters, leading from the front Chevrolet Kuwait, Mini Kuwait, the Ministry of Interior, Minstry of Education, Environmental Police, and all the organizations who participated. Above all we'd like to thank all of our volunteers and for those of you who came by to contribute to the message of kindness.